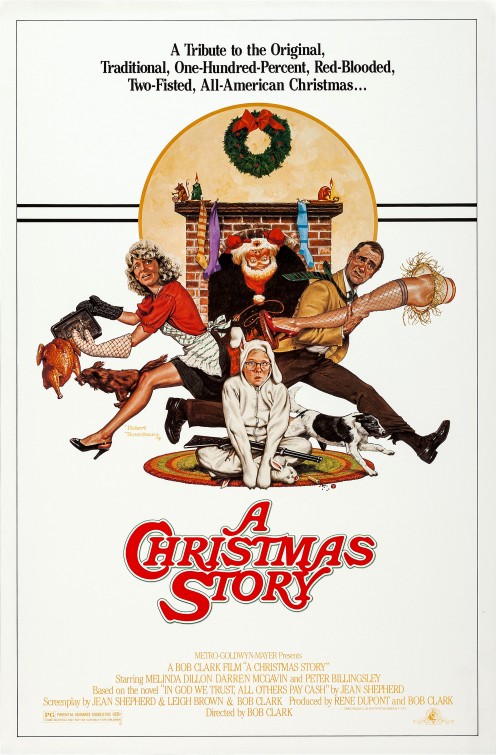 A Christmas Story
: One Christmas, I think Papa Cool and I watched this for a majority of the 24 hours TNT (or is it TBS?) played it. Non-stop classic lines: "A major award!" "Fra-gil-e." "You'll shoot your eye out!" "Drink more ovaltine?"
Borrowed Hearts
: Papa Cool and I have watched many Christmas movies. Typically, we watch so many because our gifts are already neatly wrapped beneath the tree, while Mama and Sista Cool frantically try to create and wrap their presents. One of our major coups involved watching the original (and best)
Miracle on 34th St.
followed by the 90s remake. This movie, however, is our classic. A total 90s cheese-fest starring Eric McCormack (of Will and Grace) and Roma Downey, it involves a highly improbable tale, a Mexican millionaire angel, an annoying kid, and a golf hustler. It doesn't get any better than this. We still call each other every Christmas season when we spot the airtimes for this movie. Papa Cool has since branched out into the wide world of Hallmark movies and Fa-la-la-la-Lifetime, but this is just about the only modern TV Christmas movie I watch.
A Charlie Brown Christmas
: The all-time classic. My HS students still enjoy watching it, and I must admit to still tearing up a bit whenever
Linus delivers his big "true meaning of Christmas" speech
.
A Christmas Carol (the one with George C. Scott
: This is the first version I remember watching, as it originally aired on TV. Mama Cool taped it off the TV, and we watched it every year. George C. Scott is absolutely perfect as Scrooge, able to portray both his evil-capitalist-who-hates-holidays side and his giddy-as-a-schoolboy side. Roger Rees, one of my favorite actors, is his nephew Fred, and every portrayal is just right. Fezziwig's is delightful, the poorhouse (sometimes left out of other versions) is absolutely depressing. The goose at the end is pretty large as well.
I don't know if you spend your Christmas Eve watching movies, lighting candles, or reading Luke, but however you do it, have a wonderful evening. (Mr. Cool, aka Scroogey McGrinch, would offer his Christmas movie warning--don't watch It's a Wonderful Life--he never has.)